drirelease technology
---
Even before putting it on, drirelease® instills a sense of comfort in knowing that its benefits are natural and inherent, using no chemical performance treatments. The engineered blend of fibers optimizes the wicking, drying, soft feel and comfort of all fabrics, naturally.
The unique drirelease® technology utilizes synthetic and natural fibers to accelerate the water release rate of fabrics, pushing water and perspiration through and to the outside of the garment into the air, faster than other performance fabrics on the market.
It is our promise that the natural performance of drirelease® will keep wearers fresh, dry and comfortable whatever the day has in store.
Moisture
wicking All drirelease fabrics utilize hydrophobic and hydrophilic fibers to pull moisture away from the skin – fast
Fast
drying In test after test, drirelease fabrics reach one of the industry's highest standards for dryness – up to four times faster than cotton.
Permanent
performance With no chemicals or irritants to wash out over time, drirelease ensures eco-friendly, long-term fabric performance.
superior
comfort Our fabrics' soft, natural feel keep wearers dry and comfortable – requlating body temperature by keeping skin up to 7°F cooler.
premium
quality Our wide array of fabrics and knits exhibit excellent hand, hold their shape, and are easy care. They resist pilling, wrinkling and static cling.
fibers that perform
---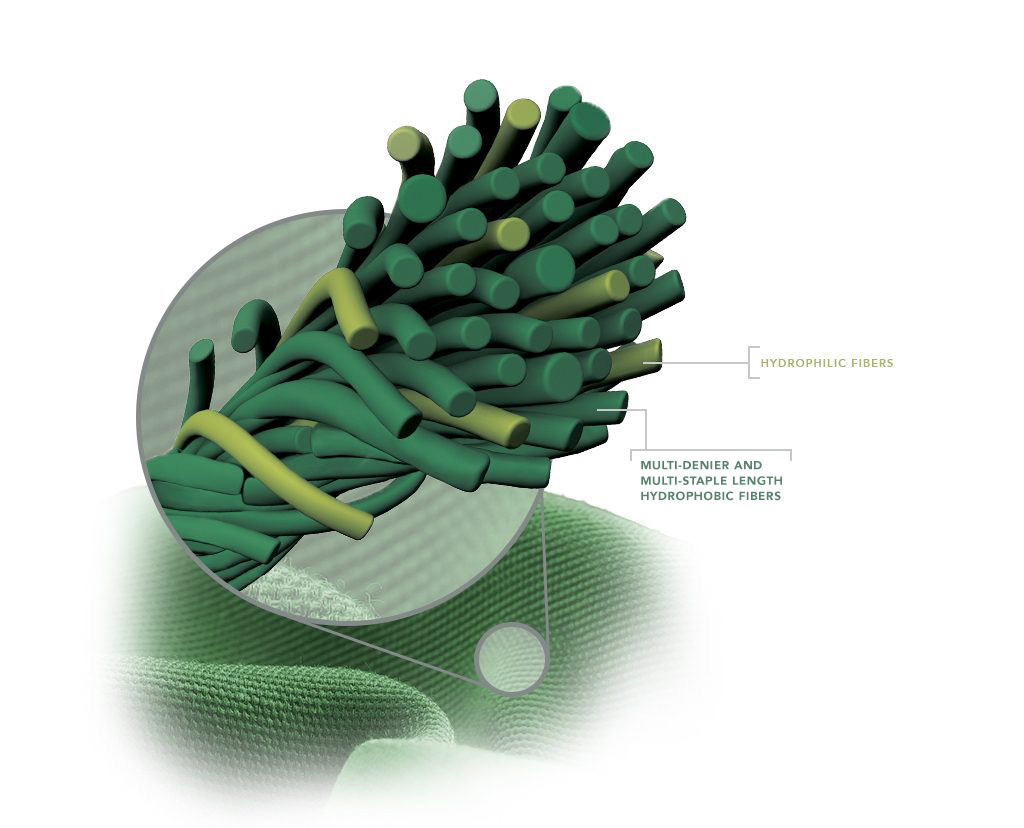 INHERENT ECO-FRIENDLY BLEND
drirelease® technology is not a surface application. Performance properties are "built into" each thread of our fabrics with a engineered blend of 85-90% hydrophobic to 10-15% hydrophilic fibers without chemicals of any kind.
---
ENGINEERED FOR PERFORMANCE
drirelease® fabrics offer an engineered blend of multi-denier, multi-staple length synthetic, hydrophobic (water repelling) fibers combined with natural, hydrophilic (water absorbing) fibers. The built-in combination efficiently pulls moisture and perspiration away from the skin and pushes it to the exterior of the fabric where it can evaporate quickly.
PERMANENT MOISTURE WICKING
Fabrics utilizing drirelease® engineered blends provide superior wicking, faster drying, and greater overall peak performance when compared to other technologies on the market. It will not wash out over time because it is not a chemical treatment.
TEXTILE INDUSTRY FIBERS AVAILABLE TO BLEND WITH drirelease
ACETATE
ACRYLIC
ALPACA
BAMBOO
BCI
CASHMERE
COTTON
FLAX
HEMP
KAPOK
LINEN
LYOCELL
MICRO
MILK
MODAL
NYLON
ORGANIC
PIMA
POLYAMIDE
POLYESTER
POLYPROPYLENE
RAYON
RECYCLED
SILK
SOY
SPANDEX
VISCOSE
WOOL